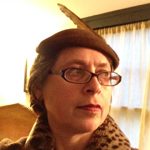 Professionally, I am a freelance graphic designer – specializing in customized map design, museum exhibits, signage, websites, brochures, books, posters and logos – and a painter.
I spent 12 years working at StudioAmmons, an architectural firm in Petersburg, Virginia. To see maps that I drew while working there, please click here.
Along with architectural graphic design, my design experience encompasses publishing, advertising, catalog, proofreading, and instruction at the New School for Social Research in New York City. While working for Sports Illustrated, I was sent to Atlanta to work on the Sports Illustrated Olympic Daily at the 1996 Olympics.
On a personal note: I grew up in Virginia and moved to New York City to go to art school at Cooper Union, and stayed in Brooklyn to pursue my career in art and design. In 1997 my husband and I returned to my roots, choosing to live in a place where we could truly become a part of the community. We fell in love with Old Town Petersburg and a historic 1828 house we've renovated.
I look forward to becoming a part of your professional community, too. Please contact me here.